When you think of the phrase "healthy living," do you think of running marathons, getting enough sleep, and eating plenty of vegetables? Now, what about when you think of "living well"? That changes the direction, allowing you to think about more than just moving your body and fueling it with nutritious foods.
When you adjust your perspective to think about overall well-being instead of just health, you are reminded of the value that friendships, spiritual connections, meaningful hobbies, and volunteerism bring to your life. After all, life is so much more than marathons and vegetables (though movement and healthy eating are certainly part of the well-being puzzle). It's about connecting to others, doing what you love, and feeling valued and cared for.
Here at WesleyLife, we believe that well-being looks different for everyone based on their abilities, preferences, and passions. We believe that feeling great has more to do with a balanced lifestyle full of the things and people you love. Maybe you can relate, or maybe you are curious about what healthy living as you age can look like. Luckily, you can find some of the most cutting-edge community and adult living programming happening here in Iowa.
What does active senior living look like? It looks exciting.
Download a PDF version of this guide by filling out this form, or keep scrolling to read.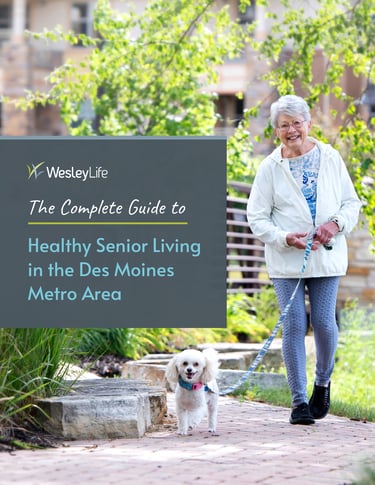 Download a PDF version of this guide by filling out this form!