Introduction
Senior living can improve your life by decreasing stress and providing access to entertainment, delicious meals, opportunities to enhance your well-being, and so much more. You may think senior living is only for people who need daily support. However, senior living communities can be excellent options for adults age 55 and older, regardless of whether you're looking for a welcoming place to launch your next adventure or are seeking support with activities of daily living. Contemporary senior living communities are vibrant hubs, and choosing the right one for you can help you make the next chapter of your life the best yet.
Download a PDF version of this checklist by filling out this form, or keep scrolling to read.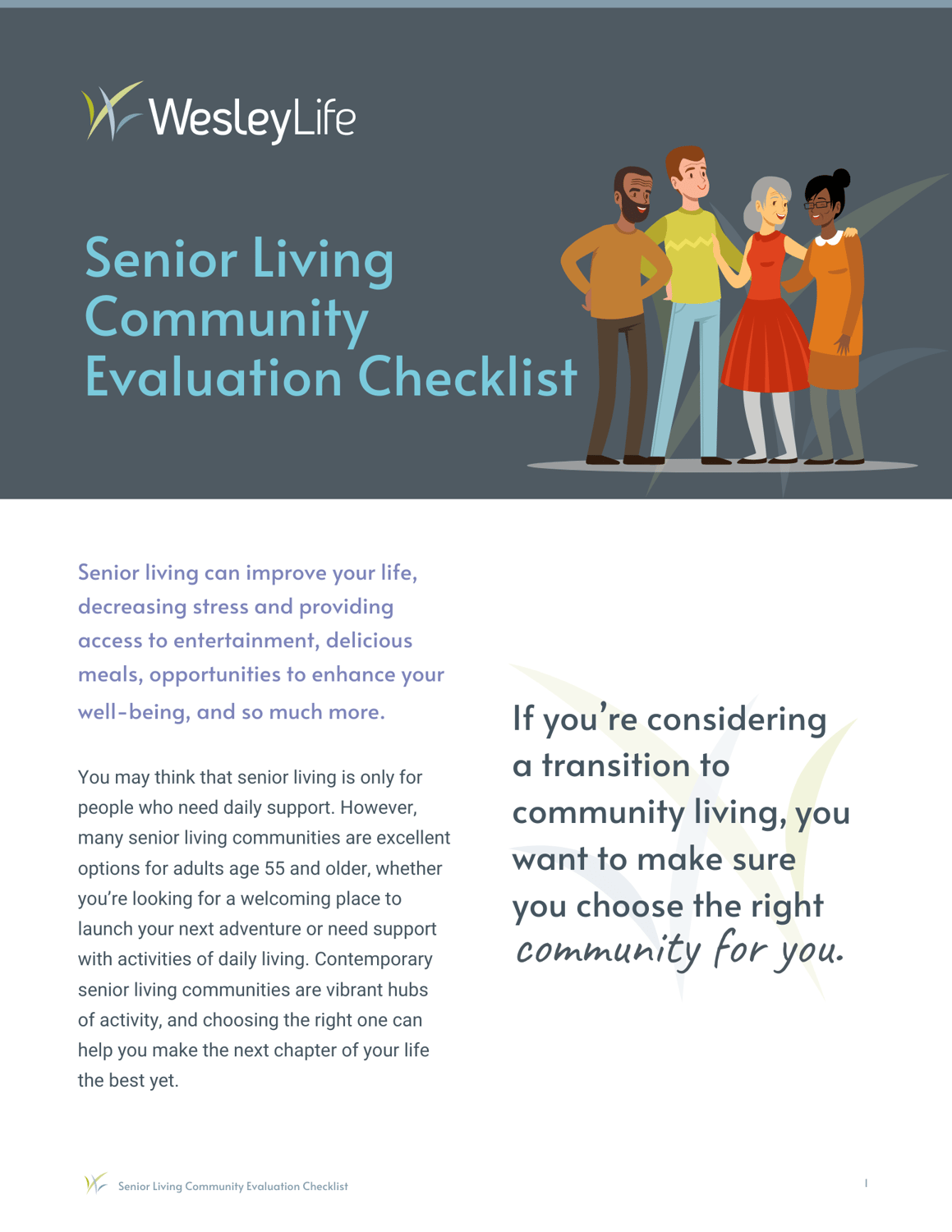 In real estate, curb appeal matters. The same is true for senior living. You deserve to feel proud when you invite visitors to your home. A beautiful environment can also make arriving home at the end of the day feel satisfying and peaceful. So take stock of your first impressions when you visit a community:
Do the residents seem happy? Do they seem like people you want to know?
Are the team members welcoming and friendly? Are they happy to answer your questions?
Does the community seem clean and well-tended? Is the ambient temperature comfortable?
How does the outside of the community look? Can you imagine inviting friends and family to visit?
2
Physical Environment and Location
If you have ever shopped for a house or apartment, you likely experienced immediate attraction to some design styles and distaste toward others. The physical environment and location of your new home matter. After all, this is your home, and you deserve a beautiful place to live in a location that meets your needs.
Do you like the way the community looks? Is it well-landscaped and maintained?
Is the community attractive and homelike with modern decor?
How easily can you navigate the campus? Are the amenities you care about accessible? Does the floor plan make sense to you?
Is the community well-lit both indoors and outdoors?
Do you like the location? What entertainment and dining options are nearby? Are there local attractions you're especially keen to visit, such as a greenhouse or museum?
Does the community offer easy access to your physician and other medical service providers?
Is the community near enough to friends and family that they can visit easily?
What about the region of the country in which the community is located? Do you like the climate? Is this where you want to live?
One of the most common and enticing reasons to move to senior living is the range of amenities close to your new home. Ensure the community includes the amenities that are important to you and your lifestyle. Here are some questions to consider:
Is the community walkable, with sidewalks and trails?
Does it include inviting sitting areas in open spaces with natural light?
Does the community offer places to gather with friends and family or host celebrations?
Does the community provide spaces to cultivate calm and quiet, such as meditation rooms?
Does the community make drinking enough water easy with water fountains and bottle-filling stations?
4
Care, Safety, and Security
Everyone deserves a safe place to call home, and one of the best things about community living is that help is available if or when you need it. However, when you choose the right community, you never need to worry about intrusions on your privacy and independence. Consider the following questions:
Does the community offer continuum-of-care options so you can stay in your new home even if your needs change? Consider the value of independent living, assisted living, memory support, short-term rehabilitation, and long-term care.
Can you customize care to your needs with personalized care plans?
How does the community enhance the safety and security of residents living with Alzheimer's disease or other forms of dementia?
Is a registered nurse always on duty?
Does the community ensure 24/7 access to medical care?
Does the community pass regular health inspections?
Does the neighborhood surrounding the community feel safe to you?
5
Health and Wellness Culture
The right community can inspire you to become more active and enrich your life with meaningful programming. Contemplate how you hope to remain active and healthy as you age and ask about the programs and amenities most important to you. Consider these questions:
Does the community promote programming and amenities to help you stay active and healthy, such as a fitness center?
What health and well-being programming does the community offer? Will you be able to access fitness programs and classes?
Does the community's health and well-being culture cater to people of varying ability levels?
Does the community use technology to offer quality well-being services, such as immersive virtual reality or live-streamed fitness classes?
Does the community support an integrated mind-body-spirit approach with programs that encourage people to remain physically, socially, and intellectually engaged?

Does the community prioritize mental health with support services and programs to cultivate emotional well-being?

Is the community smoke- and tobacco-free?
Our relationships give life purpose and can be our greatest source of joy. WesleyLife communities support the "Core4," ensuring that our programming and resident interactions focus on moving naturally, eating wisely, fostering the right outlook, and building and sustaining connections with people who challenge and support you. These questions can help you assess the quality of the community's social environment:
How does the community welcome new residents? Does the community offer an onboarding program or welcome event to help residents become acquainted with their new neighbors?
Does the community help new residents build supportive friendships? Many WesleyLife communities offer programs such as "First Friend," which pairs new residents with "onboarding ambassadors" (i.e., current residents who help them transition to community life).
Can residents easily join clubs and committees? Does the community provide an accessible list everyone can see?
Does the community offer programs designed to make physical fitness fun and social, such as a walking group?
Does the community celebrate milestones and events, such as birthdays or anniversaries?
Does the community recognize the contributions of team members and residents with acknowledgment of volunteer hours, employment anniversaries, and other special celebrations?
Can residents enjoy certified pet therapy visits at regular intervals?
Does the community encourage team members to invest in community life? WesleyLife communities host events throughout the year that team members' families can attend.
Does the community welcome residents' families and friends and provide opportunities to include them, including Zoom events?
7
Lifestyle-Related Amenities
You may be considering community living because of the promise of convenient and attractive amenities just steps from your door. The right amenities enhance your days as you keep growing, learning, and moving. Some questions to ask include:
How does the community encourage and foster resident creativity? Does it offer workshops or classes centered around gardening, crafts, art, photography, or writing?
Does the community provide ways for residents to connect to nature, such as an onsite garden?
Does the community welcome pets?
Does the community encourage residents to pursue existing interests or help them discover new ones?
Does the community foster opportunities for intellectual engagement, such as book clubs, classes, or other opportunities?
Eat Wisely is one of the Core4 elements we practice in every WesleyLife Community for Healthy Living. Each community's dining program encourages a healthy relationship with food. Food is nourishment, medicine, and one of life's greatest pleasures. What you eat and how you eat matters. Be sure to ask the following:
Can this community cater to your nutritional needs and preferences?
Is the food healthy and tasty?
Is the menu varied, with appetizing and healthy choices?
Can the community cater to plant-based diets?
Can you access food at any time?
Are healthy snacks easily accessible?
9
Meaningful Opportunities
A sense of purpose can help people live longer, and the right community can connect people with their sense of purpose, supporting a meaningful life. Consider the following questions:
Does the community promote volunteer opportunities?
Does the community encourage deep, meaningful connections among neighbors?
Does the community offer spiritual programming? If worship services are offered, are various religions and denominations represented?
Does the community offer meditation spaces and mindfulness programming?
Does the community provide yoga classes?
The community's team members can serve as friendly faces, sources of support, and advocates. As you meet team members, ask yourself these questions:
Are the team members friendly and welcoming?
How does the community ensure that team members are qualified and able to work in the community?
Do team members foster a culture of inclusion, accessibility, and support?
Can team members access quality continuing education?
How is the community rated as an employer? For example, WesleyLife is certified as a Great Place to Work® and is a Fortune® Top 20 Best Large Workplace in Aging Services.


Community living can relieve financial stress by bringing predictability to your budget. Here are some questions to ask about finances:
If you have long-term care or other insurance, will it cover living in the community?
Is the community Medicare and Medicaid certified?
Is the community transparent about pricing and fees? Do you clearly understand the services and amenities included?
What will happen if your financial situation changes? For example, in WesleyLife communities, the

WesleyLife Promise

ensures residents will not be asked to leave if they deplete their finances through no fault of their own. You deserve a community that will be there for you.
12
Questions to Ask Yourself
When you're deciding whether to make a move, it's important to trust your intuition. You know your needs best, so don't shy away from asking about what matters most to you. Here are some final questions to guide your decision-making process:
Can you picture yourself living here?
Does this community feel like home?
Will this community help you thrive?
Does this community meet all of your needs and requirements?


Download a PDF version of this checklist by filling out this form
Simply fill out this form to receive a PDF version of our checklist.